So I was super excited when I stumbled onto
Jillgg's good life (for less)
new link party, Work It Wednesday! I found this a few days ago and thought I would give it a go! I decided to showcase one of my favorite items in my closet; my Free People lacey skirt. I have been trying to find new ways of wearing this little garment and here are three ways I've worked it....
#1. Careless&Flirty
I actually showed this outfit in my first blog post!
Top: Free People
Skirt: Free People
Sockies: Urban Outfitters
Boots: Steven Madden
#2. A Little Country
This time paired with...
Tank top: Tilly's (previous employer)
Denim vest: Gifted from my best friend!
Shoes: Steven Madden
#3. Date Material
This was a first time outfit & I maybe fell in love... with the outfit :)
Shirt: Urban Outfitters (Sale!)
Wedges: Urban Outfitters
Necklace: Christmas gift
Which way is your favorite?

Link up with us for Work it Wednesday !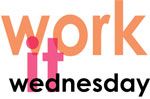 Thanks for stopping by!